At Dreamforce 2018, the Salesforce small business team asked attendees to share their most essential advice for small business owners. Over the course of four days, we collected more than 1,000 pearls of wisdom.
To celebrate National Small Business Week, we've distilled those 1,000+ suggestions down to 12 bits of small biz advice. And for fun, we've included some runner-ups that expressed similar ideas in different words.
Here we go:
1. "Every journey starts with one step — make sure you have the right shoes to go far."
Launching a small business involves many important decisions, both big and small. The choices you make today can affect your business for years to come, so it's critical to get off to a strong start and put your business on the path to success.
Runner-ups:
Start on the right foot and invest in the right software/tools to be successful so you don't have to start over down the road.
Start simple and build on it over time. It's more difficult to simplify later.
Life isn't about finding your calling. It's about picking up the phone and dialing.
2. "Don't boil the ocean — think small and fast."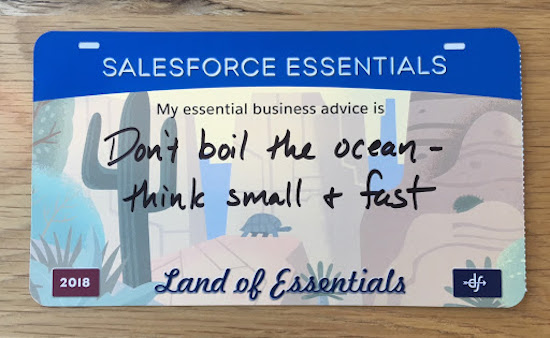 Don't let yourself get overwhelmed by complexity or paralyzed by the quest for perfection — keep things simple when and where you can.
Runner-ups:
Do it now. Don't wait until it's perfect!
Do not overthink and overanalyze the simple tasks.
Progress vs. perfection.
3. "Trust your instinct — you may just know the next industry trend!"
Running a small business is daunting, but you've got this. You're the captain of the ship, so trust yourself to steer the right course.
Runner-up: Think positive!
4. "Dream big, but remember to scale for the future. Planning is your best tool to ensure continued success!"
It's great to have a vision of where you want your company to go. But it's even more important to plan ahead so that the decisions you make today don't box you in tomorrow.
Runner-ups:
Change management is everything!
Change is the only constant!
Don't be afraid to change, but do your research first!
5. "Be open to the journey without being too rigid on the outcome." 
Running a small business is an unpredictable adventure. Flexibility is one of the entrepreneur's best tools for overcoming unexpected adversity.
Runner-ups:
Be willing to take on the unfamiliar.
Your biggest strength is having no ego.
Look at things in new ways and look for ways to improve.
6. "One great employee is better than 10 bad employees."
Employees are your biggest asset. Hiring (and then listening to and trusting) the right people is one of the most important steps to success.
Runner-ups:
Surround yourself with a great team, and build that team slowly.
Do not take your first and second hires lightly — they could literally make or break your small business.
You're only as good as your team.
Invest in great people.
Listen to and trust your employees. They are your greatest resource!
7. "Listen. Listen. Listen. You have two ears and one mouth. Use them in that ratio."
Details (and good communication) matter.
Runner-ups:
Nobody knows everything. Learn, collaborate, share.
Include everyone in the hardest discussions — your decisions will be better!
Don't be afraid to share your opinion, even when it's unpopular.
Always get feedback from your customers.
Always listen to your customers to refine your product and process.
Listen to customers — understand their needs and wants at every touchpoint.
Ask questions.
Pay great attention to details.
8. "Know your numbers, but know your customers better!"
Customers are the lifeblood of any business, but especially for small businesses. Treating them right and giving them a reason to come back is critical.
Runner-ups:
If customer service is your priority, financial prosperity is inevitable.
Customer retention is as important as acquisition.
Customers first, always!
Become customer obsessed!
Always provide value and you will not need to sell anything.
9. "Whether you think it's possible or not, you are right!"
Elvis sang it best — "Only the strong survive." When the going gets tough, successful small business entrepreneurs get going.
Runner-ups:
There are no mistakes … only opportunities!
Problems happen. You'll be fine. Keep going!
When nothing goes right … go left!
Don't be afraid to fail.
Failing isn't the end. It's an opportunity.
Don't give up.
Perseverance and persistence go a long way.
Always keep moving forward!
10. "Work for a company you're proud of."
Once you've hired great employees you need to treat them right so they stick around. The churn and expense of replacing good workers can debilitate even the strongest small business.
Runner-ups:
Always have a great company culture.
Treat your people well.
Keep your employees happy.
Be gracious and kind to people.
People are your business!
11. "Do what you say you'll do!"
What does your company stand for? If it doesn't stand for much it likely won't be around for long.
Runner-ups:
Tell the truth!
It's OK to be nice to everyone.
Never burn any bridges.
12. "You have one life. What is important to you?"
There's only one you! It's impossible to create and run a successful company if you aren't functioning at 100%. Be good to yourself, so that you're around to enjoy the fruits of your labor.
Runner-ups:
Remember to breathe.
Make time to eat.
Sometimes naps are necessary.
Many thanks to our great Dreamforce attendees for taking the time to pass along so many thoughtful and helpful suggestions.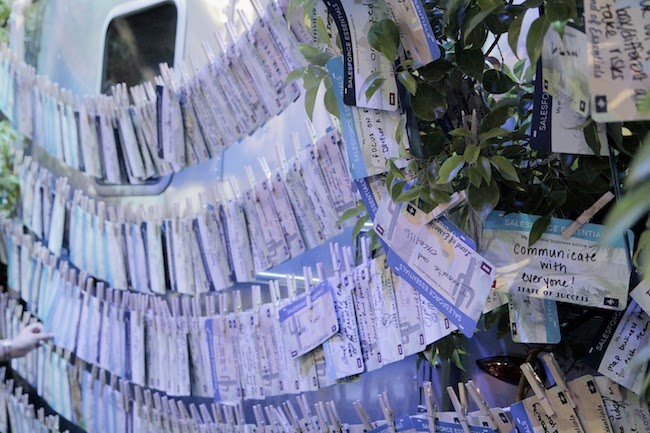 Salesforce Essentials helps you find more customers, win their business, and keep them happy so you can grow faster than ever. Learn more about our small business CRM solutions by following us on Twitter at Twitter, LinkedIn, and Instagram.
Republished by permission. Original here.
Photo via Salesforce
---
More in: Dreamforce, Salesforce
---